Name: Thanlos
pokemon: Zangoose
Personality: Thanlos is very dark and cruel. He belives that the world is not meant to cary weaklings, and the weak should be killed. He has an eternal hatred for Seviper like all of his kind, and his greatest enimy is Xeven, who is a seviper. Thanlos only loves two people, his wife, and his only child, but if either of them got in his way, he would kill them in a moments notice.
Mother: Aila ((Zangoose))
Father:Servantes ((Zangoose))
Anything special: Thanlos's first love was a Seviper, but after she crushed his heart he turned to the ways he is now. He also wears a ring on his finger that reads "I am my beloved, my beloved is me."


Name: Uru
Pokemon: Wooper
Personality: Uru is a big jokester, he loves to make people laugh, and he loves to feel free. He is a real nice guy,but he does seem to be mean to Multove alot.
Mother: Aka
Father: Ubu
Anything Special: Uru i betroved to a shiny mudkip. He hates it becasue he likes Alex. He also ha two purple stripes where most woopers have three.


Name:Barley
Personality: Barley is really laid back, and he enjoys a good place pun. He is the calmest at Dagnyt's lair. He tries to get people to be optimistic
Pokemon: Ditto
Mother Denani ((Ditto))
Father: Unknown
Anything Special:Barley has a trouble time transforming, o when he does his color is always pink, and he always keeps the same face.


Name:Oasis
Pokemon: Eevee
Personality:Oasis is kind and kind of quiet **compared to his siblings** he is in a band of Eeveelutions. He sings many diffrent kinds of songs, mostly classic rock ;D
Mother:kai((Espeon))
Father Milo ((persian))
Anything Special:Oasis is shiny, and his voice is very beautiful.


Name:Bea Chus
Pokemon: Bulbasaur
Personality:he can be a bit of a grouch, since Bea's always wanted to evolve but was unable to.being She likes pancakes and drinking tea, prefers warmer weather over cold, loves to swim and sleep in the sun, and doesn't like to stand out in a crowd. Bea's always been fascinated with Landscapping duities and took working in that area. Her other interests lie with learning the basics of herbal medicine
Mother Unknown
Father Unkown
Anything Special: Bea's skin is Purple because of a skin defect, also she can only use her vines from her left side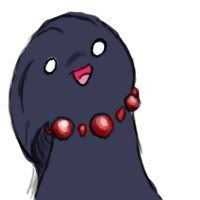 Name:Moonie
Pokemon:Misdreavous
Personality:he's really shy except when she's near her friends. She has the tendency to teethe (chew) on her friends ears when she's really happy. It doesn't hurt though.
Mother: Unknown
Father: Unkown
Anything Special:...


Name:Adamo
Pokemon: Abra
Personality:Usually uptight around others, so as to make a good impression, but caring and more friendly with others. He will usually do anything as long as someone commands it. This is a problem he has had for quite awhile.
Mother Anne ((Kadabra))
Father Exin(Hitmonchan)
Anything Special:Though he doesn't like to talk about it, it has been rumored that he has become like this due to the loss of someone dear. The scarf he wears was also rumored to be given by the same person.


Name:Kishca
Pokemon: Glacieon
Personality: Kishca can be kind of a snob. She can be ruthless as well, her love of violence lander her the job at Dagnyt's Lair. She is tough, the only pokemon who has beaten her is Orphan, and she hates him for it.
Mother: Unknown
Father:Unknown
Anything Special:...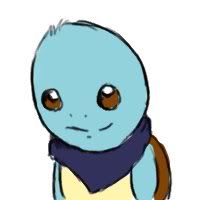 Name: Bubbles AKA Bubba
Pokemon:Squirtle
Personality: Bubba has a timid nature. He tends to be afraid of everything. He is best friends with Pucca. Although, he is afraid of a lot of things. He is not a coward and will not back down from a fight..
Mother: ???
Father: ???
Anything Special:Bubba's bubble attacks come out every shape but round. Like squares, triangles, etc.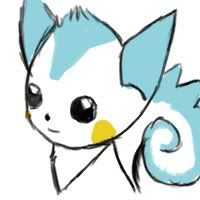 Name: Pucca
Pokemon:Pachirisu
Personality: Pucca is the opposite of her best friend Bubba. She is outgoing and loves to have fun. She is also optimistic and adventorous. She is very headstrong but she is acutally very kindhearted and caring..
Mother: ???
Father: ???
Anything Special: Pucca is afraid of flying Pokemon after a tramatic experince with a Murkrow and Honchcrow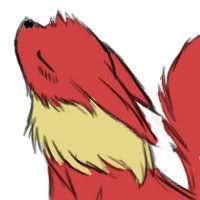 Name: Patrick
Pokemon:eevee
Personality: Patrick loves reading and studying the history of the universe, he considers himself an expert. He often finds himself getting into trouble and stuck into positions that end with him in a spot that he finds uncomfortable. He is also laid back and loves resting under trees or in his room. Despite all this, he is very powerful and is an expert fighter. Finally, he falls in love easily, but is not a flirt. He hangs around with girls more often than guys, even though he's not gay. He is also shy around girls he likes and tends to mumble
Mother: ???
Father: ???
Anything Special: he is red


Name: Artemis
Pokemon:Riolu
Personality: She is serious when she is working, but when off the job she is very playfull and loves to have fun. She is a big flirt off the job.
Mother: Palla (Lucario))
Father: Soll ((Empoleon))
Anything Special: She is noticibly lighter then the other Riolu's. She also wears a cool hat.


Name: Shell
Pokemon:Kabuto
Personality: Tends to keep things to self. Not very talkative, but will talk back if needed. can be protective torwards friends. listens to orders.
Mother: ???
Father: ???
Anything Special: Shell was reserected from a fossle found underneath the lair. He has a tag-like ribbon on one of his claws/arms/legs/whatever they are. his shell thing is colored grey like steel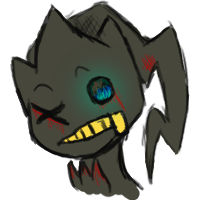 Name: Nobody knows, most call him X
Pokemon:Banette
Personality:A very serious person, who doesn't take insults and betrayal from anybody. He feels the need to point out other's mistakes constantly, but only to anger them. Hes not one a person would like to get acquainted with.
Mother: ???
Father: ???
Anything Special:He speaks telepathically. Nobody knows where he obtained his scars, or how he lost his eye.


Name: Molly
Pokemon:Mawile
Personality:Molly's pretty tomyboyish. She is also Moonie's best friend and caretaker. She found Moonie' abandoned in a forest and decided to take care of her. Not much is known about her past. She's is very protective over Moonie, although she does trust her friends but not really new comers. Also, supposedly Moonie's ear-chewing liking came from Molly even though Molly doesn't chew ears.
Mother: ???
Father: ???
Anything Special:A long time ago, Molly had to face a strong opponent in order to protect Moonie. One of her teeth in her steel jaws in missing because of that fight.


Name: Dawn
Pokemon:Froslass
Personality:Dawn's pretty motherly. She is graceful and pretty. Unfortunately, Dawn is suffering from amnesia and cannot remember her past. The only thing that she can remember is her name. She's pretty much always calm and happy but can be emotionally when people ask her about her past. She is very close to Chomp
Mother: ???
Father: ???
Anything Special:...


Name: Chomp
Pokemon: Poochyena
Personality:Chomp's pretty much a puppy. He acts very childish and is very hyperactive. He thinks of Dawn's as his mother figure. He occasionally will bark out his words. You can count on Chomp to make you feel better if you are down. Chomp can also be a little airheaded at times but he's always ready to fight.
Mother: ???
Father: ???
Anything Special:He wears a red bandanna


Name: clover
Pokemon: Leafeon
Personality:Clover is shy and polight. She loves to frolic through meadows and has a pretty singing voice. The flower she wears was given to her by someone special.
Mother: ???
Father: ???
Anything Special:She wears a Gracidea flower clip around her right ear.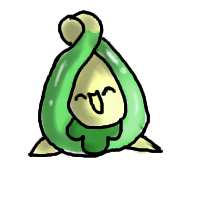 Name:Buddy
Pokemon: Budew
Personality: Buddy is pretty quiet. He makes noises more than words and has taken a liking to Clover. They're best friends. He accompanies her on her adventures.
Mother: ???
Father: ???
Anything Special:Buddy is the only Budew that knows the move Sing.